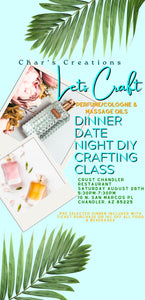 It's the summer time and we outside creating and crafting. So bring your friends, a date and or your kids to a fun filled afternoon of making 2 complete Body products. That's two classes for the price of one. We're making Body Massage Oil & Perfume/Cologne Spray Mists at Crust Chandler Restaurant !!!!
What to expect at class:
This D.I.Y. class comes complete with all the materials you need to make and take home a beautiful hand crafted Body Massage Oil  & Perfume/Cologne Spray Mist you'll be proud to say you made your self.
Door prize
2 Gourmer Italian slices and a soft drink
10% off all other Food and beverage orders at the restaurant 
Char's Creations complete Bath and Body line will be present to purchase your favorite products for yourself or gifting. 
Where: Crust Chandler Restaurant 
Contact us at:
Char's Creations Shopcharscreationscustomers@gmail.com
(480) 779-9137
www.shopcharscreations.com
****Disclaimer: 10% Off monthly coupon codes are excluded from DIY classes *****