Lets Make Candles!!!
Come and bring your friends, a date and or your kids to a fun filled afternoon of making candles at Merchantile Scottsdale!
Buy RSVP Tickets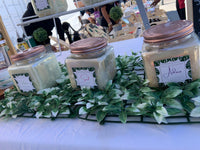 *New Item Alert* 20oz Scented Candles
100% Soy triple Scented candles in 4 variety fragrances.
Buy Now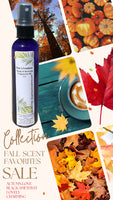 Fall Fragrance Oil Collection
Here you will get four of our top selling autumn fragrances. Consisting of Autumn Love, Lovely, Black Amethyst and Charming. Fragrances can be used from head to toe like a perfume or cologne, spray in the air as an air freshener or use in an oil warmer (sold separately) to fragrance your home, office or where ever you choose.
I SMELL AMAZING, SO BUY ME!!!
Testimonials
I use your beard, hair and locs oil everyday. It gives me that shine without the greasy feeling. And helps grow their hair to a rich thickness. The best product I ever had. Thank you.🙏🏾

Deegosk8r of Instagram
I really love this stuff.  I was recently in the hospital,  and my aunt bought me a jar. It helped my skin so much.  I've been using it every since. 

Shonda Shon
 I feel like they knew my skin was breaking out as soon as I ran out of my first bottle! The Blacksoap wash with Shea Butter makes my skin feel so clean unlike others after long days with makeup.

Losa Berhane
 After daily washes for about a month+ my acne scars have gotten much lighter and I rarely get breakouts. I've tried dozens of acne medications and washes and this has been the most convienent and effective.

Losa Berhane
 the 'Triple Butter' soap in the Lemongrass Lime scent - Thee Bestest! :) My bathroom lingers this scent! It smells like a fresh burst of goodness and kindness. During my early mornings, (after steeping some green tea w/ginseng & lemon). This soap is buttery smooth with a gentle lather. Thoroughly cleanses, no slip in shower/tub and easily rinses.

Shadae Shird
The men's fragrance line is awesome as well, my fiancé loves them.

Adria Moore
With Golden V Herbal Cleansing foam I have not experience ph imbalance, thoroughly cleans, no weird smell - a light earthy smell. I love how the foam is luxuriously thick and creamy.
I'll be ordering bars & this liquid form. Finally, I'm satisfied with finding of this seller and her products!
Thanks, Char :)

Shadae Shird
Cleanses extremely well! Ph definitely is balanced while I use the soap and I notice a difference when I am all out! Thanks Char for this wonderful natural feminine product!!

Abena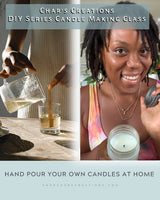 DIY Candle Making Course Package
Learn how the make candles form the comfort of your home. With this package you will recive: All the ingredients, production materials, step by step instructions and video tutorial. Everything you need to make your very own candle.
Shop Now
Chars Creations ambassadors team is growing
Hey CC luvs. If you are interested in joining our Brand Ambassadors team. Click Here to learn all about it and how to get started.
Start Now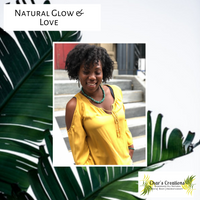 Hello Im Char, The CEO of Char's Creations Product maker of natural 🌱Skin Care 🌱Hair Care 🌱Intimate Cleansing & 🌱Aromatherapy . This company and product line was created from the passion of a once hobby/extra source of income turned ✨Dream career✨. Welcome to all my new and returned customers. Thank you all so much for your continued support and L💚VE for Char's Creations .